News
The importance of medals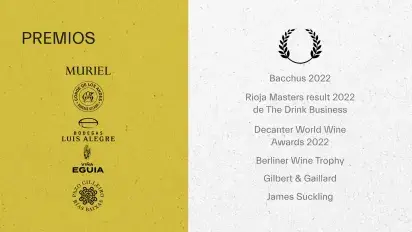 For us, knowing that consumers enjoy our wines and repeat the experience over and over again is the best reward. But as grape growers and producers, earning good scores and winning medals at major international wine competitions is also a source of great satisfaction.

After months of work in the vineyards and in the cellar. After focusing all our attention on quality. After thinking carefully about which wines will appeal to people all over the world and about the way in which we will convey our brands' values... After all this, the opinion of juries and critics provides confirmation and encouragement. Sometimes we expect more, sometimes we are surprised because we didn't expect so much, but we are always grateful to everyone who takes the time to taste what we make and appreciates our contribution to the wonderful world of wine.
Because a medal or a score is just that: an opportunity to connect with professionals and, through their opinions, with the wider global market.
We would like to share some of Muriel Wines' excellent results obtained recently.
Muriel Crianza 2018
Our most representative Crianza, the backbone and center of the expression of the Rioja Alavesa vineyard. Pure origin, pure tradition and pure enjoyment that has been recognized with a Gold medal in the contest Bacchus 2022 and another Gold in the Rioja Masters result 2022 of The Drink Business.
La Reñana Tinto 2018

La Reñana Tinto 2018 has been awarded the Gold Medal at the Bacchus 2023 competition. A very positive achievement for our red wine with origin in the most select vineyards of Laguardia (Rioja Alavesa). More than 1,800 wines from 18 countries take part in this competition every year.
Pazo Cilleiro 2021 - 22
Two excellent results for our white Albariño wine produced at our winery in Rías Baixas: 91 Suckling points and 92 Decanter points (Silver Medal). Very good scores for a young wine like Pazo Cilleiro. Bacchus 2023, Silver Medal for Pazo Cilleiro 2022
Viña Eguía 
Viña Eguía, a collection of fresh, versatile and very modern wines, continues to garner praise. The most recent award the 2 Gold Medals at the Berliner Wine Trophy (Germany) for Viña Eguía Rosé and Viña Eguía Tinto (Graciano-Garnacha) and 93 pints for Viña Eguia Reserva in the Wine Enthusiast magazine. 
Conde de los Andes, White and Red
At this point, the outstanding performance of our Ollauri wines is no longer a surprise. Their extraordinary level is reflected in the French Gilbert & Gaillard competition with Double Gold for both and 93 points in the last report of the critic James Suckling.
 
You may also be interested in: