News
A comfort wine for winter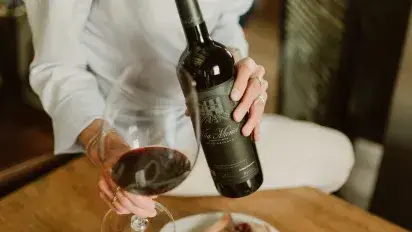 Three moments in which Viña Muriel Gran Reserva is unique in fighting the cold
What do you think about gran reserva wine? It is not the most popular or the most consumed, but it is the most special. Firstly, because it remains undaunted by fashions, offering the most historic and traditional style in the whole Rioja universe. Secondly, because it always surprises the most amateurs and advanced professionals. 
With Gran Reserva you have to let yourself go and then, at the most unexpected moment or with the most unusual dish, it fills you with an enveloping, juicy sensation that is the perfect definition of pleasure.
We love what Eric Asimov, the New York Times wine critic, writes: "If there is one wine that seems to be out of sync with the times, it is the gran reserva from Rioja. But I love it. It has a unique style, subtly polished and smooth, that seems old and new at the same time."
We agree 100% with Eric Asimov. We will always claim our oldest wines, such as Viña Muriel Gran Reserva from selected Tempranillo vineyards in the best spots in the village of Elciego. We are passionate about enjoying it on special occasions, those that make us enjoy the winter.
After a walk under the shy sun
Those days of clean, cold and calm atmosphere when you feel like taking a walk in the countryside. Those winter mornings when the sun accompanies and caresses us. After walking for a while, we reach the warmth of home, where a bottle of Viña Muriel Gran Reserva awaits us.
It has such an enveloping and friendly character that it seems made for this moment. It is palatable, leaving a long and pleasant presence in the mouth, with a calm, balanced energy, not at all impetuous. Gradually, the tasting becomes the first chapter of a perfect midday.

The wise simplicity of a seasonal legume dish
After praising the Gran Reserva wine, Eric Asimov suggests very direct pairings with simple recipes. One of the most natural and appropriate proposals of the moment is the gastronomy of legumes. 
Stewed beans, for example, are perfect. The combination of the nuances of the vegetable garden with all the subtle density provided by the legumes and their protein accompaniments: all this makes up a daily monument to flavor and texture. And on this path of reconnection with well-being, we find Viña Muriel Gran Reserva, with its contribution of integrated acidity and roundness so tasty and harmonious.

Après ski dinner: after a happy day in the snow, a great red wine
Mountain sports and good gastronomy: a perfect formula to enjoy the winter. So, let's go for it, with a complete proposal that links a fantastic day of skiing with a hedonistic evening.
After the snow, it's time for a good fireplace and a comfortable environment. Some hors d'oeuvres of Iberian sausage, magret, roasted red bell pepper, a fondue.... And in the glasses, a wine capable of creating a great atmosphere. Viña Muriel Gran Reserva contributes to savoring special moments.
 
You may also be interested in: