News
Conde de los Andes, wines for unique experiences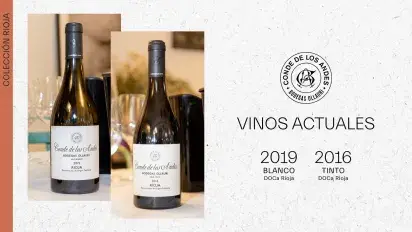 Often, at the table, we open both Conde de los Andes wines at the same time: the white and the red. They form a duo so well blended that it is very pleasant to drink them both at the same time.
This is the brand's first experience: enjoying the two Conde de los Andes equally. There is no one better than the other, no "big brother" or "little brother". Both are tied and, moreover, they understand each other perfectly when they go together. They are premium and high level, but, at the same time, they represent a direct and accessible character, a personality that makes them friendly to all kinds of audiences, including the less expert.
Immersion in history is another unforgettable experience
A centuries-old charm. A network of calados unique in the world. A secluded, subterranean, magical atmosphere. Decades of continuity, offering a unique interpretation of the traditional Rioja style.
All these attractions, so typical of a long history, define Conde de los Andes' commitment: to recreate a style that is both current and timeless, capable of connecting with today's consumers as it did with those of the 1950s, for example. Moreover, we have revealing graphic testimonies of that era: Ernest Hemingway himself enjoyed the wines at the Ollauri winery.
Nowadays, visitors to our winery experience it with all five senses. The skin feels the special temperature and humidity of the underground galleries. The characteristic smell of the passage of time. The dim lights. The silence maintained for centuries, just since the last stonemasons finished excavating the cellars? And in the end, the glass brings together all these sensations: history made wine 
Rediscover landscapes of great value
The direct bound with its place of origin. There are few wines in which the sense of the original vineyard is so present. If you try Conde de los Andes Blanco, you will feel it: that air of flowers and open fields will immediately transport you to a preserved natural environment of clear beauty. With the Tinto, you will notice the botanical cortege and the limestone minerality very present. Then, it will be worth visiting the vineyard under the cliffs of Mount Toloño. It is a revealing moment, in which wild perceptions come together and at the same time, very close to civilization. 
For us, that is the Rioja of wine: a permanent contrast between two energies as close as they are different. The untamed environments of the mountains, full of forest and pure air. And the streets of our villages and neighborhoods, full of life, where bars, restaurants and groups of friends have managed to maintain a culture of relationships and enjoyment around wine.
 
You may also be interested in: