News
Discover the new categorization of Rioja wines: A journey of flavors and authenticity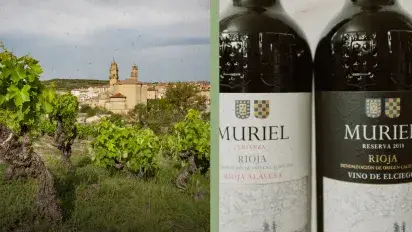 Today we want to tell you a little more about the new categorization of Rioja wines. We would like to show you what the differences are between the category of town and of Zone, and seduce you with two Muriel wines classified within these categories: Muriel Reserva and Crianza.

Have you heard about the changes that have been implemented in the categorization of Rioja wines? These changes are intended to help you understand, appreciate and enjoy even more the diversity and uniqueness of the wines of this area.

The "Town" category is a new concept that highlights the unique characteristics of vineyards and wineries located in a specific town. What does this mean? Well, each wine in this category carries with it the authentic flavor and essence of the place where the grapes are grown - a unique opportunity to savor the true personality of each town! 
Muriel Reserva: The legacy of Elciego in every sip
A clear example of Vino de Municipio is Muriel Reserva, more precisely, Vino de Municipio de Elciego. The grapes used for this wine come from the plateaus and slopes of Elciego, an area that stands out for its unique characteristics. Muriel Reserva is made in a careful and traditional way, using a manual harvest with a meticulous selection of the grapes in the field and has gone through a long aging process in oak barrels. Imagine enjoying this wine with its elegance, complexity and those unique flavors that only the Rioja terroir can provide. With its intense ruby color, ripe fruit aromas and spicy notes, Muriel Reserva is simply perfect to enjoy with delicious vine shoot grilled lamb chops, a typical dish of the Rioja region. In addition, this wine goes wonderfully with cured cheeses and recipes that have intense aromas, a real delight!
Muriel Crianza: The jewel of the Rioja Alavesa
On the other hand, the "Zone" category groups wines that come from wider areas within Rioja. Here you can find wines that represent an entire wine region, with its distinctive characteristics and flavors, such as Muriel Crianza.

Muriel Crianza comes from the Rioja Alavesa region and is a true wine treasure. The grapes used for this wine are carefully selected from vineyards located in the area. The winemaking process includes a manual and staggered harvest, as well as daily pumping over to extract its full flavor and potential and a shorter aging time in oak barrels. This gives it a balanced structure and a fruity character that is hard to resist - imagine its bright cherry color, red fruit aromas and hint of vanilla! It is the ideal companion to enjoy with a good grilled meats, tapas and cured meats, stews, rice dishes and pasta. Ideal for pairing with traditional Spanish dishes or to enjoy at an informal gathering. Muriel Crianza is a fantastic way to explore and discover the essence of Rioja in every sip.
So, go ahead and explore these new categories of Rioja and immerse yourself in the richness and diversity of its wines! We are sure you will find true gems in every bottle - cheers!
 
You may also be interested in: