News
Discover the treasures of summer: Pazo Cilleiro, Wines for unforgettable nights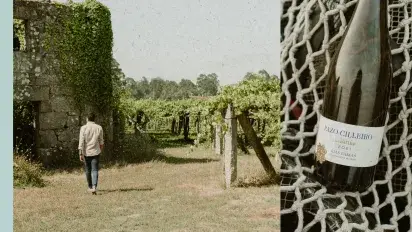 Summer is here and that means that is time to enjoy refreshing and vibrant wines! And if there is a label that you have to keep in mind for summer nights is Pazo Cilleiro. These wines have souls. With a history that goes back to French monks and the influence of the Atlantic coast, every sip of Pazo Cilleiro connects you to its rich tradition.

The Charm of Rías Baixas in Every Glass

The vineyards are located in the Salnés Valley, Rías Baixas region, in Pontevedra, where average temperatures and high rainfall allow the clusters to ripen in all their splendor and contribute to the development of high-quality grapes. With their 100% Albariño, these wines are the perfect combination of elegance and freshness. 
Imagine this: a warm summer night, the starry sky and a glass of Pazo Cilleiro in your hand. Is there anything more relaxing than that? This wine awakens the senses with its aromas of white fruits and fresh citrus. Each sip envelops you in an explosion of flavors that transports you to the sunny days of the Galician coast.

Pazo Cilleiro, 100% Albariño 2022: Freshness and vibrant taste

Pazo Cilleiro 100% Albariño 2022 with its recent vintage, is vibrant, agile and fresh, perfect for enjoying during the warm summer months, this wine captures the very essence of summer in every drop. Its balanced acidity and long, refreshing finish make it perfect to enjoy on its own or with fresh seafood and summer salads - it's like a refreshing hug with every sip! 

Pazo Cilleiro on Lees 100% Albariño 2021: Elegance and Texture

But wait, there's more! If you're looking for something even more special, you can't miss Pazo Cilleiro on Lees 100% Albariño 2021. Harvested manually in small boxes and meticulously selecting its grapes, this wine has been aged in tanks with its fine lees and in French and American oak barrels for 6 months, which gives it a creamier and more complex texture. The result? An incredibly smooth and fresh mouthfeel that will make you salivate.  Its ripe fruit notes and mineral character will captivate you from the first sip. Ideal for pairing with baked fish or soft cheeses, this wine will make you feel as if you were on a terrace by the sea - it's like having the Atlantic Ocean in a glass!
So, are you ready to immerse yourself in the charm of summer with Pazo Cilleiro? Don't wait any longer and let yourself be seduced by these exceptional wines. Refresh yourself, relax and toast to the magical summer nights. Cheers!
 
You may also be interested in: