News
Harvesting in the Bodegas of the Muriel Group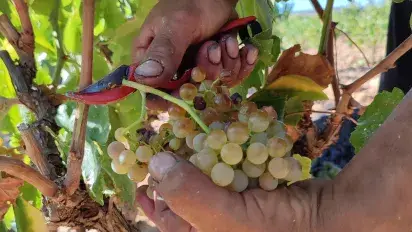 That thrilling time of the year is upon us when the bodegas of the Muriel Group ready themselves to receive the fruits of the long-awaited harvest. But before all the activity in the vineyards can begin, a series of vital jobs first need to be carried out to ensure a successful harvest and the quality that we demand.

In the Muriel Group team we spare no efforts when it comes to preparing our vineyards for the harvest. From early on in the season, the most expert hands have worked the land with passion and dedication. This year, in both the Rioja vineyards and those in Ribera del Duero precise adjustments have been made in the yields of the plots, performing the difficult task of removing grapes from some of them to guarantee a harvest of the highest quality, which is our goal.

In addition, our colleagues in the Rías Baixas have confirmed that the condition of the grapes is ideal, after overcoming the critical outbreaks of mildew, and a record harvest of the finest quality is expected.
From storms to radiant sunshine: looking after our vineyards
Nature can be capricious, and storms sometimes challenge the best laid plans. But the Muriel Group does not give in easily! In the vineyards of the Rioja Oriental, steps have been taken to mitigate the damaging effects of the storms. Our growers have been working tirelessly to make sure every vine plant receives the care it deserves, no matter what obstacles are thrown up along the path.
Sampling: a glimpse of the magic that is yet to come
Time to go among the vines and get a glimpse of the magic that they hold in store! Sampling the grapes is a crucial step in preparing for the harvest. Our technical staff, with great precision, assesses the composition of the grapes and measure their level of ripeness. The data obtained from such sampling give us a clear idea of when the perfect moment will be to start picking the grapes. 
With the results of the sampling in their hands, the technical team leaps into action. It is time to put in motion the strategies and techniques that ensure a successful harvest. Every point of detail is important, from the moment the first grape is cut to the final cluster harvested. Our aim is clear: to capture the essence of our lands in every drop of wine and bring our wine lovers an unforgettable experience.
Countdown: Harvest ahoy!

With the fieldwork and sampling behind us, the countdown to the harvest begins. Based on our analyses, we are already making forecasts for the start of the harvest before the end of August. The Muriel Group team is ready to collect the fruits of a year of arduous work and devotion. 
So wine lovers, harvesting is about to begin in the vineyards of the bodegas of the Muriel Group, and it promises to be a celebration of flavour, tradition and passion for each coming sip. Cheers! 
You may also be interested in: