News
Making the most of the last days of summer with elegance: A guide to choosing the right Muriel wine to share with these moments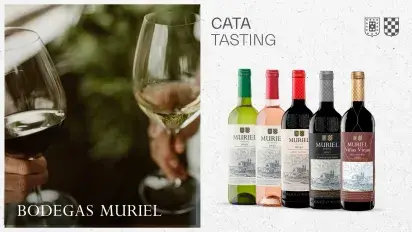 As we bid farewell to the bright sunny days and get ready for the move into the cool autumn season, there is no better way of celebrating this change than with a glass of Muriel wine in your hand. Whether you are planning one last outdoor supper or you simply want to drink a toast on the terrace, here we offer you some tips to help you choose the perfect Muriel wine to bring down the curtain on the summer. Let's immerse ourselves in the expressive selection from Muriel!
The refreshing charm of the Muriel Blanco
To start off, we offer you a refreshing gem: Muriel Blanco. With its unique combination of Viura and Tempranillo Blanco grapes, this wine will enthral you  with its fresh notes and soft hints of oak (in the final blending of the wine a percentage of around 10% of wines from older, cask-aged wine is added). It is like a walk through a citrus-fruit grove at the heart of August. Ideal to pair with shellfish dishes, crisp salads and seasonal risottos.  A perfect choice for keeping the essence of summer alive on your palate!
Immerse yourself in the light elegance of the Muriel Rosado
If you are looking for a wine which sums up the vibrant essence of the summer, Muriel Rosado is your choice. With its characteristic, pale pink colour and fruity profile, this wine is like nightfall in a glass. Notes of ripe strawberries and raspberries mingle in each sip, offering up a balance between freshness and sophistication. Perfect to accompany a cheese board, Mediterranean tapas or a relaxing evening just chatting with friends.
Friendship with the accent of Muriel Crianza Rioja Alavesa.
Finding a relaxed conversation between a group of friends over a bottle of Muriel Crianza Rioja Alavesa is a summer custom which we extend to the rest of the year. Aromatic freshness, concentration and finesse on the palate, traits which we can find in this wine which expresses the accent and character of the Rioja Alavesa. Perfect to enjoy with tapas and charcuterie, cured ham and Iberian pork cold cuts in our moments of relaxation, but also with char-grilled or barbecued meat: sirloin, ribeye steak or grilled fish around a table.
The timeless distinction of Muriel Reserva, wine from Elciego.
If you want to give a lift to your end-of-summer celebrations, Muriel Reserva is a choice which will never let you down. This red wine, painstakingly aged, offers a complexity which conjures up the maturity of the season. With its combination of Tempranillo grapes and its ageing in new French- and American-oak casks, Muriel Reserva will delight you with notes of ripe fruit, vanilla and subtle spicy nuances. Grilled meat, comforting casseroles and lively conversations find their perfect match in this wine.
The peak of elegance with the Muriel Gran Reserva
And we reach the peak of elegance with the Muriel Gran Reserva. This wine encapsulates excellence and patience, with a lengthy period of ageing which culminates in an oenological masterpiece. Profound flavours of ripe plums, tobacco and cocoa unfold with each sip, reminding us that our patience is paid back in spades. The right accompaniment for celebratory dinners, game dishes and moments of reflection as the summer gently fades away.
So there you are, a brief journey through the range of Muriel wines to elevate your last moments of the summer. Whether you prefer the refreshing charm of the white, the elegance of the Rosado, the accent of the crianza, the distinction of the  reserva or the heady peak of the gran reserva, Muriel has a wine which will fit every occasion.  So fill your glass, gather together your loved ones and drink to a summer which takes its leave with style and a great aftertaste!
You may also be interested in: