News
The perfect wine for a time of barbecues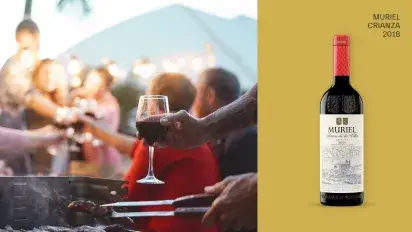 Starting it up is the first treat. The first part of a fun-filled, mouth-watering experience. Lighting the fire or the charcoal in the barbecue sets the tone for one of those days to remember during the entire season.
Summer is here; it's the perfect time to grill and roast meat outdoors, and here's our recommendation so that the liquid part of the meal brings all the joy that such day deserves.
We want freshness
Friends, good food... and warm, sunny weather. These are the ingredients for the perfect barbecue. That's why we recommend a fresh and versatile red, light but with some depth. A wine that pairs well with everything.
We want versatility
Tempranillo is a particularly accommodating variety, specially if the wine has some ageing: it will be able to handle the intense, juicy and smoky flavours of a succulent piece of meat, such as pork tenderloin, beef burgers or fresh charcuterie.
We want to find identity
The pleasure is multiplied if wine and meat share something in common such as origin or tradition. In the case of a Rioja producer like Muriel, perfection is something as simple as having lamb chops with a local crianza wine. And if the meat is grilled near the vineyard, the experience is unparalleled!
We want the ideal temperature
Yes, we know, the warm weather plays a major role. We should't be afraid to chill our ideal barbecue red for a while on a hot day. Cooling it down increases its appeal and makes it really pleasant to drink.
We've got it: Muriel Crianza!
For its freshness, versatility, identity and culinary possibilities, it is the ideal red wine for summer barbecues. Bursting with delicious and expressive fruit and that hint of oak that is so genuine and savoury. The mere thought of a morsel of delicious meat washed down with Muriel Crianza makes our mouths water. 
Bacchus Gold and 91 Suckling points for Muriel Crianza 2018
Our recommendation for the perfect barbecue wine is endorsed by the best possible credentials: Muriel Crianza has won a Gold Medal at the Bacchus Awards. Organised by the Unión Española de Catadores (Spanish Tasters Union), 1,700 wines took part in Bacchus 2022 and only 37 won a Gold Medal.
The second piece of great news is the 91 points awarded by the prestigious wine critic James Sucking, a terrific acknowledgement of the quality of Muriel Crianza 2018.
You may also be interested in: