News
Three favourite spots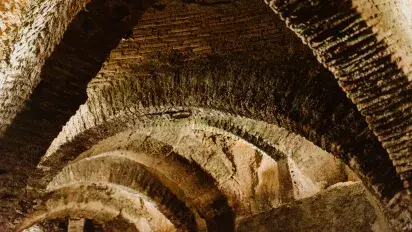 Discovering the wonders of Conde de los Andes's underground cellars
Every turn, every step, every metre of gallery is fascinating. The underground cellars of Conde de los Andes have centuries of history and mystery with their dim lights and cool atmosphere. They are witness to the invisible traces of the people who have walked along these underground tunnels since they were first built in the Renaissance, when the vineyards of Ollauri and the whole of Rioja Alta flourished.
Yes: emotions are alive and well in our calados or underground cellars. But if we had to pick three particularly inspiring spots, we would choose these below. If you happen to visit Conde de los Andes, you might agree with us on this preference or you might prefer to choose your own favourite places.
1. An extraordinary geological phenomenon at the end of the very long Calao de los Gallegos.
Digging at Calao de los Gallegos began in the early 18th century. It is the longest gallery in the entire Conde de los Andes maze of cellars. At the end of the route, the Galician stonemasons who excavated it —hence the name— had to abruptly stop their work: they found a huge geological fault formed by a streak of sandstone at a lower level than the rest of the passage.
It is really prominent and spectacular, and explains the geology of the area remarkably well, so much so that even an erudite scholar like Jovellanos was fascinated by the discovery during his memorable visit to Ollauri in 1795.
2. Watching the sky from the depths of the earth.
In the oldest part of the calados, the ceilings are supported by brick arches. It is a beautiful and eye-catching construction technique of Moorish origin. In one corner, there is a flower-shaped or star-shaped archway made of reddish bricks.
Next to one of the arms of this star, we can see a cavity in the clay: it is an ancient ventilation shaft. The surprise comes when we stretch our necks and look up: the light comes through the chimney, more than 10 metres away. On clear days, the bright blue sky of Ollauri can be seen through this opening.
3. The calado that has been hidden for two centuries and is now housing the finest white wines.
A few years ago, during an episode of heavy rainfall, part of an underground passageway collapsed. Fortunately, it was empty. When the debris was removed, we discovered a hidden gallery leading to a second, previously unknown calado. It had been forgotten for two centuries!
We are currently restoring this cellar to balance out the humidity. The cellar that collapsed and was later rebuilt with new traditional archways is being used for a very special purpose: to store the collection of Gran Reserva whites. One of the jewels of Conde de los Andes, these bottles lie now in a very safe place.
You may also be interested in: