News
Tiradito and marmitako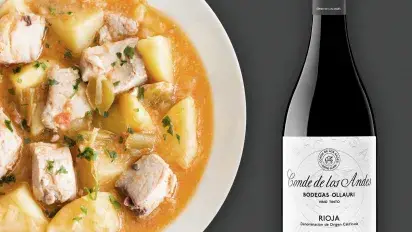 Two summer

dishes

that go well with Conde de los Andes
It could be the name of a trendy fusion eatery, but this title refers to two dishes that are set to be at the top of this summer's list.
Tiradito and marmitako. Both of them are traditional dishes, albeit not from the same tradition. Instead, they come from two very different and distant cultures —the Peruvian coast on the Pacific Ocean and the Spanish Basque coast on the Bay of Biscay. Geographically 9,700 km apart, butthis coming summer they will be right next to each other on any self-respecting terrace.
Here they are, paired with an insider's recommendation: enjoy them with Conde de los Andes wines. Satisfaction is guaranteed.
For starters,

tiradito
Let's take one at a time. For starters, a mackerel tiradito. This is one of the flagship recipes of Nikkei cuisine, which blends Japanese and Peruvian ingredients. For more than a century, Japanese immigrants to Peru introduced techniques such as raw fish slicing. Exposure to Peruvian ingredients such as ají created a culinary identity that is unique in the planet. Now, Nikkei cuisine is one of the world's most prominent food trends.
As Peruvian chef Giacomo Bocchio (don't miss his video recipes on youtube) says, tiradito comes from "estiradito, (stretched, in English) which is how the thin strips of fish are arranged on a plate." Any fish will do; mackerel is one of the most popular, as it is caught in many of the world's seas.
The secret of tiradito is that the fish slices, either raw or lightly cured, are dressed with leche de tigre (tiger's milk) sauce. It is always made with lime juice and a paste made from ají, the American pepper par excellence. It incorporates additional vegetables, such as garlic, coriander, onion... Leche de tigre leaves a lot of room for creativity.
The combination of these ingredients is unbelievable. The purity of the ocean with the aromatic patchwork of the subtropical coast. Tiradito is sour, umami, salty, with sweet touches... It is refreshing, nutritious, fun. It has it all.
Marmitako

, main dish
We're back in Spain from the other side of the world. From ocean to ocean, and from Peru to the Bay of Biscay. In summer, the waters of the Atlantic deliver a highly prized fish: bonito. Basque, Cantabrian and Asturian fishermen invented a recipe derived from the simple pot they used and carried on board: the marmita.
While tiradito does not require cooking with heat, marmitako is the opposite. In the marmita, a mixture of vegetables —potato, pepper, onion, tomato— is sautéed and cooked in extra virgin olive oil. It needs to be cooked in fish stock for a fair amount of time, so that all the ingredients bind well together. Once it is ready, pieces of bonito (tuna) are added and cooked quickly with only the heat of the pan.
This dish is the epitome of simple pleasure. It should be left to settle, preferably overnight. The textures blend together and the flavour intensifies. Although it is a traditional stew, it is a typical summer dish. It can be served tepid.
Which are the the most suitable wines?
The wealth of nuances of a tiradito calls for a white wine with depth and complexity. Conde de los Andes Blanco is just perfect. Its texture on the palate, with its sober but long-lasting aftertaste, provides a wonderful contrast with the wine's acidity. Unctuous and with spicy, mineral hints, it wraps up the fresh, intense bites of Tiradito.
Marmitako is a stew with a rich, succulent texture. The tuna and the broth retain a marine dimension, while potatoes provide the earthy essence. Sea and mountains in a dish that successfully combines substance and subtlety. Served with Conde de los Andes Tinto, it is even more enjoyable. The ripe red fruit aromas take us to the landscape: a country walk with the fine blue line on the skyline. Round and with a hint of acidity, the wine appears to dance with every spoonful of marmitako. We want more!
We conclude with some breaking news: the two Conde de los Andes wines (White and Red), have both won Gold Medals at the prestigious Bacchus Awards, organised by Unión Española de Catadores (Spanish Tasters Union). More than 1,700 wines entered the competition but only 37 wines obtained Gold Medals.
You may also be interested in: