News
A giant cluster to greet our visitors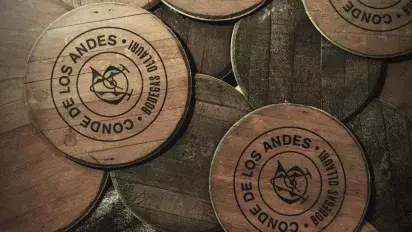 Welcome to Conde de los Andes in the village of Ollauri. Guided by our experts, a small group of wine tourists walk down the stone staircase to the barrel cellar. The mood is relaxed and inviting, and the air is filled with the familiar, penetrating and pleasant smells of a bodega. This large room protects the lower levels, where visitors will find the greatest treasure of our estate: an extensive network of ancient underground galleries which are unique in the world -the famous "Calados de Conde de los Andes".
A surprisingly large bunch of grapes
As they leave the barrels behind and turn a corner to the next space, visitors get the first major surprise of the day: a giant bunch of red grapes hanging from one of the walls, just as if it were a large painting. The sight is captivating and the size of the grape cluster is as striking as its "gimmick": it is made from the round heads of old barrels, reused to look like red berries. The entire piece measures four metres by two metres. It is indeed impressive.
The large Conde de los Andes grape cluster was installed in 2017. It was designed by a blacksmith in Haro, Talleres Clavel, who masterfully came up with the perfect scale for this installation. But what is most striking are the different shades of red in the 30 plus heads-cum-grapes that form the cluster. Some are crimson, others turn dark brown, and a few are pale pink. The wines they once contained, years ago, left a special and distinctive mark on their surface.
Shining berries
That's not all. In addition to their attractive vinous colour, the surface of the heads-cum-grapes retains a peculiar sheen: traces of tartrates, small salt crystals resulting from the sedimentation of tartaric acid. This organic acid forms naturally in the grapes during the ripening process and lends the wine ripe fruit, "vinous" notes and pleasant flavours. Tartaric acid is transformed into tartrates when exposed to cold. They sometimes form harmless crystalline deposits in bottles or dry little crystals on the walls of the barrels, as in the case of the oak heads in our large cluster.
An extra detail
On the wall opposite the cluster, there hangs a poster that elicits exclamations from our visitors: it shows an old wine label of 'Bodegas Ollauri' and reminds us that the brand was awarded a gold medal at the Bordeaux Contest in 1895. For wine enthusiasts, an additional curiosity: the small print on this label reveals that the alcoholic content of this second-year red wine was only 11%! Those were the days.
The tour continues, and the group leaves both the grape cluster and the poster behind to explore the subterranean Calados. But that is another chapter.
You may also be interested in: