News
The intimate side of pruning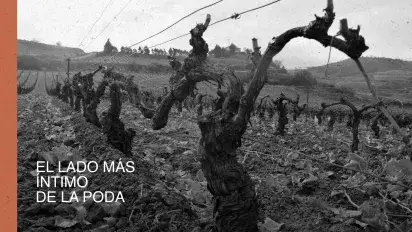 One of the main tasks of the viticulture can also be a place for creativity and reflexion.
Why do we prune
The days of winter pruning are upon us. It is one of the most important operations of viticulture, with a fundamental objective: prepare the vines to sprout and grow healthily during the next life cycle that will begin in spring. And to ensure that, in the next harvest, they produce an optimum quantity of grapes and, above all, of excellent balance and quality. Pruning well has beneficial long-term effects: it prolongs the life of the vines and their good condition, which is crucial to defend against diseases and ensure effective protection against the growing risk of droughts and heat waves such as those we suffered last year.
The characteristic sound of scissors
The pruning work will take weeks. For many days, in our now brown and bare vineyards, among shreds of mist, we will hear the characteristic sound of the pruning shears. We will recall an old anecdote: how our hometown, Elciego, in Rioja Alavesa, was the pioneer of modern pruning in Spain, back in the 1860s. Some time ago we told this beautiful story here.
The vine-person relationship
Pruning is one of the viticultural tasks where the person-plant relationship is still very close. Despite all the technical advances, such as mechanical pre-pruning or the widespread use of electric shears. Good pruning requires the experience gained over the years together with a good dose of concentration and even imagination. 
Cutting trunks and shoots involves thinking about what we want the vine to be like in the future; in this sense, it is a task that has clear similarities with sculpture. It is also a work of respect. To achieve this goal of longevity and harmony of the vine, the pruner mixes vision and responsibility. Something as simple as a cut is an act committed to the life of the vineyard.
A space for reflection and creativity
Perhaps for this reason, for many winegrowers, pruning is an intimate space of knowledge and awareness. By focusing attention on such a concrete and organic process, the possibility of reconnecting body, mind and environment arises. The apparent monotony of the act of pruning jumps to a meditative and creative dimension. 
The hours spent pruning can become particularly fruitful for reflection. Thinking about the past vintage, visualizing the next, planning, dreaming and letting oneself go to the rhythm of a joyful and respectful "clack-clack".
You may also be interested in: