News
Tempranillos in Rioja and Ribera. Similar but different
Same variety, different personalities
SEPTEMBER 2021. The same variety, the famous Tempranillo, is the star of the vineyards of two of Spain's most renowned regions, Rioja and Ribera del Duero. Yet, this red grape displays significantly different personalities in each territory. Geoclimatic conditions are decisive and, at the same time, dictate vineyard management methods that may differ from one place to another.
Now that Muriel Wines owns a new winery in Ribera del Duero ?VALDECURIEL, in Las Pinzas valley, between the villages of Curiel and Pesquera de Duero?, we are starting to find out more about Tinta Fina, as the variety is locally called, and learning to interpret its distinct zonal identity, influenced mainly by the climate and the soil.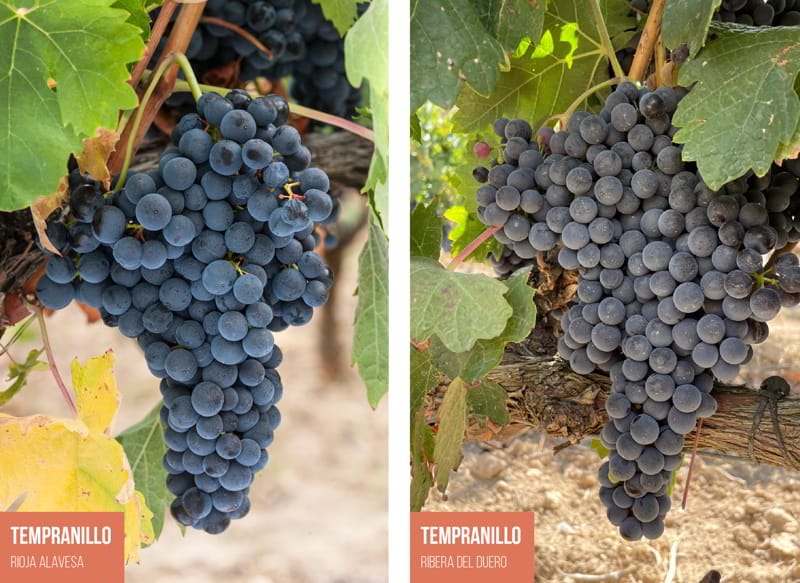 First factor: the climate
While DOCa Rioja wines are produced in an area with a moderate climate and a strong Mediterranean influence, in Ribera del Duero we find a semi-arid continental climate. Sudden jumps in temperature are generally rare in Rioja but in these high plateaus of the Spanish hinterland the opposite is true, as temperatures seem to be driven to extremes on two counts. Seasonal differences are considerable, with very hot summers and very cold winters; additionally, temperature fluctuations between day and night are notable. This is especially evident in summer, when hot days are followed by very cool nights. It is not unusual to have temperature differences of up to 25ºC.
Impact on viticulture
The climate has an obvious effect: in the Duero Valley, the grapes ripen faster and the grape harvest is shorter. Harvesting usually takes place at the end of September, although in some years it goes well into October. In these cases, the risk of night frosts increases, which is another of the defining features of Ribera del Duero. In the Rioja vineyards, the relatively milder conditions mean that the harvest starts earlier but most importantly, it stretches over a longer period of time. One could say that in Rioja, Tempranillo grapes "hang in there" for a few more days.
Second factor: the soils
In our Rioja vineyards, especially in the Rioja Alavesa sub-area, clay-limestone soils are dominant. Their main virtue is their ability to retain water, although not for long, and thanks to this, the vines make good use of the rainfall, which is relatively more abundant than in Ribera del Duero. In this winegrowing area of Castilla, and particularly on the Valdecuriel estate, the soils are very chalky and the steep slopes limit the retention of water. 
What are the differences between Tempranillo wines from both regions?
In Ribera del Duero, grapes have a lower concentration of water, while sugars and other substances are proportionally higher; meanwhile, as they ripen rapidly, their acidity decreases and the sugar content rises. All this results in a Tempranillo with distinct character and a somewhat wild personality.
The wines have a deeper colour and concentrated aromas. On the palate they are tannic, full-bodied with intense flavours and black fruit aromas.
Tempranillo wines from Rioja tend to display a wide range of nuances. The variety's inherent strength makes them structured, but they are neither full-bodied nor very powerful in terms of flavour. They are round and refined and stand out for their balanced acidity and red fruit notes.

"
You may also be interested in: