News
Tomata: is it the best end of summer treat?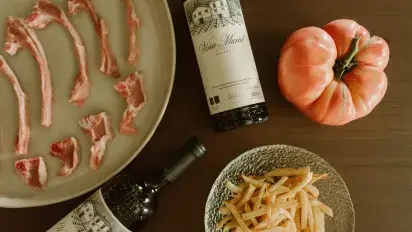 Enjoy this delicacy with lamb chops and Viña Muriel Reserva
In Rioja, the final stages of summer offer us the perfect antidote to cure any hint of post-holiday gloom: the intense, fleshy and succulent tomata, an indigenous heirloom tomato grown in our vegetable gardens on the banks of the Ebro river and its tributaries. Let's learn a little more about it and suggest a juicy pairing.
The veggie garden's big rosy jewel
It is important to note its shape and colour because there are many prized vegetables grown in La Rioja, such as the region's winter artichokes or its delicious peppers. It is now the season of tomatas, a true delicacy with their juicy, succulent texture.
Born in the fields and the farmers' markets, the word tomata was a generic name which now has its own identity. It describes a tomato of an unidentified variety but one which is perfectly adapted to the agricultural soils of Rioja, where it can grow to a considerable size, sometimes even exceeding one kilo. Hence the name tomata, as it is the local custom to use feminine names to refer to large-sized produce and objects.
The popularity of tomata lies in its organoleptic properties: soft and fleshy texture, very thin skin, low acidity and rich, complex flavour, with hints of sweet fruitiness. For all these reasons, it is ideal for salads between August and October. A pinch of salt and a drizzle of extra virgin olive oil and that's it: a delicious treat.
And to round off the menu...
Seasoned tomata combines perfectly with grilled suckling lamb chops, and even better with lamb chops grilled on vine shoots. It is an exquisite, mouth-filling combination: the juicy freshness of the tomata with the rich and smoky notes of the meat. The savoury depth of flavours with the intensity of the protein —simply wonderful!
Naturally, to achieve full balance we need a third element: a wine oozing as much sense of place as the lamb and the tomata.
Our suggestion is serious, complex, with glimpses of pure Rioja classicism: long-lived and vibrant, traditional and with refreshing acidity, intriguing, richly layered. Let's reveal its identity: Viña Muriel Reserva.
Viña Muriel Reserva, an icon
Now in its 2015 vintage, Viña Muriel Reserva is a 100% Tempranillo wine from selected plots in El Gallo, our main vineyard in Elciego (Rioja Alavesa), home of Bodegas Muriel.
It is one of the greatest wines, not only of our bodega, but also of Rioja Alavesa. Powerful and vibrant, it represents the extraordinary qualities of Tempranillo vines aged more than 50 years old, carefully grown on clay-limestone soils.
The wine has a long life ahead of it, but sometimes, it is simply irresistible to open a bottle. This is one of those very moments: tomatas and chops demand it!
You may also be interested in: